Piaffe | Copyright© 2019 |



Planned Litters
Our planned litter
FI & FIJ W - 05 Twyborn Philadelphia "Hupi" X Ch. Twyborn Joy of Life (Imp SWE) "Folly"
Please click on the below link to view the pedigree

http://thewhippetarchives.net/testmating.php?dam=184744&sire=7017
This will involve the use of imported semen and has involved some planning.
Thanks to Molly Rule-Steele of Taejaan Whippets and Anita Sandquist the owner of Hupi for making this possible. Thanks also to Michael Wikstrom as the breeder of these two whippets.
This combination follows a recent Twyborn litter with Folly's mother Dahlia with Hupi. Fingers crossed for some puppies soon!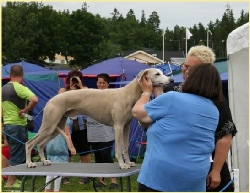 Above and left: FI & FIJ W - 05 Twyborn Philadelphia
Below: Ch. Twyborn Joy of Life "Folly".